Drills were quite commonly used in Power Miners, on their vehicles, hand tools and even on cranes. They rely a lot on their drills for heavy mining. They did not use many drills or mining equipment in the 2010 wave, as they were more aimed at catching monsters.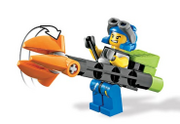 Ad blocker interference detected!
Wikia is a free-to-use site that makes money from advertising. We have a modified experience for viewers using ad blockers

Wikia is not accessible if you've made further modifications. Remove the custom ad blocker rule(s) and the page will load as expected.