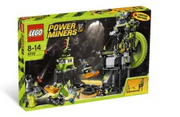 8709 Underground Mining Station
was released in June
2009
as part of the
Power Miners
line (being set number 11 in the series).Minifigures included are
Rex
, two
Unnamed Miners
, and one
Geolix
Minifigures. This set is a limited edition and a Toys-R-Us exclusive.
The Rubble Rescue Rover can be built using this set. The instructions are available at www.LEGOclub.com if the code RESCUE is typed.
The Mining Station is seen in The Clutch Power Movie, but is destroyed by the Crystal King. The tiny Mining Car appears twice during the City scene: Once at the Construction Site, and once in another scene.
This set was included in the Products Collection set 3 in 1 Superpack.
Lego.com`s Description
Edit
Defend the mining station from the rock monsters! The Power Miners have built this massive underground mining station to help them gather crystals. Transport the precious cargo across lava rivers using the zip line. When rock monsters threaten, spot them with the huge searchlight, then use the dynamite hurler to drive them away. Includes rock monster and three Power Miners mini-figures.
Includes 1 yellow rock-throwing monster and 3 minifigures: 1 engineer and 2 Power Miners and mining truck!
Accessories include walkie talkie, pickaxe, shovel, 4 sticks of dynamite, 2 blue crystals and 2 yellow crystals!
Transport crystals between the two control towers via the zip line!
Control tower features chute for collecting crystals, search light and lookout post!
Mining Station measures over 23 inches (58cm) long and 14 inches (37cm) tall!
Ad blocker interference detected!
Wikia is a free-to-use site that makes money from advertising. We have a modified experience for viewers using ad blockers

Wikia is not accessible if you've made further modifications. Remove the custom ad blocker rule(s) and the page will load as expected.